Landscaping the Capital
Landscaping Canberra – Design – Construct – Maintain.
Landscaping Canberra – Design – Construct – Maintain. No job is too big or too small any facets of landscaping or a entire yard make over. Working with you and your budget to achieve the best possible result for the area, we will improve the usability of your outdoor space and enhance the appearance of your gardens for you to enjoy. We can supply and install any hardscape or softscape landscaping area. JPB Group is Canberra's local landscaping contractor trading for over 10 years.
Landscapers and Landscape gardeners can take on many facet of landscaping such us excavation and preparation works, retaining walls, paving, fences, turf, hedging, lawn mowing to maintenance. With teams specialising in specific areas of work.
Our clients are local home owners, national companies and international people with property interests in Canberra. We look forward to undertaking your work in a single area of landscaping or a whole landscaping project, delivering on time with a fixed price.
Landscaping Canberra's Backyard you need the right equipment, person and products. Look through our services and products pages and come and talk to us.
Services for landscaping Canberra Backyards.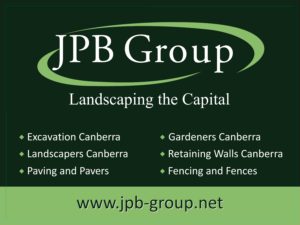 Excavation – Preparation work for landscaping.
Landscapers – Installation of landscaping products.
Landscape Gardener – Maintaining landscaped grounds.
Paving and Pavers – Supply and installation.
Retaining Walls – Supply and installation.
Fences and Fencing – Supply and installation.
Products for Landscaping Canberra Backyards.
Supply and Installation only for Landscaping products.
Rock, stone, pebbles and sands.
Stone and concrete aggregate, base materials, bedding sands.
Soils, mulches, compost.
Grasses and turf
Retaining wall blocks, concrete sleepers, garden edging, edging.
Concrete pavers, Clay pavers, Recycled pavers, Travertine pavers, Bluestone pavers.
Colourbond fencing, glass panels, tubular fencing, pool fencing and gates.
A landscaping solution for any property.
Home – Landscaping Supplies – Landscaping Services – Landscaping Quotes – JPB Landscapers